News
The Best Water Bottle for Your Active Lifestyle: The Many Benefits of Everjugs Stainless Steel Bottles
by Hamzah Najib on Dec 30, 2022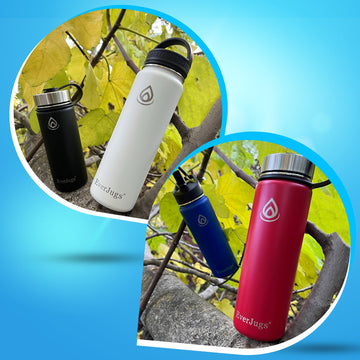 When it comes to finding the perfect water bottle, there are a few key factors to consider. You want a bottle that is durable, practical, and stylish – one that can keep up with your busy lifestyle and meet all of your hydration needs. That's where Everjugs stainless steel bottles come in.
Not only are these bottles made of high-quality stainless steel, which makes them resistant to rust, corrosion, and leaks, but they are also insulated to keep your drinks cold or hot for hours on end. This makes them perfect for use at home, at the office, at the gym, or on the go. Whether you need a refreshing drink of cold water to cool you down on a hot day, or a warm beverage to help you get through the winter months, Everjugs has you covered.
But the benefits of Everjugs bottles don't stop there. In addition to their practicality and durability, these bottles are also incredibly stylish. They come in a range of colors and finishes, so you can choose the one that best suits your personal style. Whether you prefer a classic, understated look or something bold and eye-catching, there's an Everjugs bottle that will fit the bill.
And let's not forget about the environmental benefits of choosing a stainless steel bottle over a plastic one. Plastic water bottles are a major source of pollution, with millions of them ending up in landfills and oceans every year. By choosing an Everjugs bottle, you can do your part to reduce plastic waste and support a more sustainable future.
Overall, if you're in need of a reliable, stylish, and sustainable water bottle, Everjugs stainless steel bottles are an excellent choice. They are the perfect blend of form and function, and they are sure to become your go-to hydration companion for years to come. So why wait? Invest in an Everjugs bottle today and experience the difference for yourself!